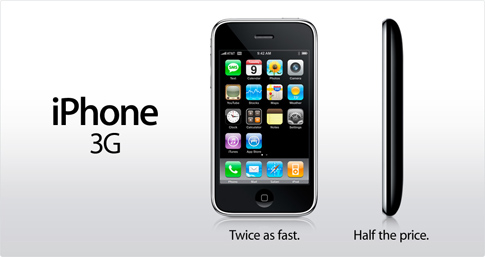 Well, it has been 3 weeks now since i got my hands on the iPhone 3G and I have to say I am still enamored with the quality of the interface. The device feels solid, works well and has few bugs (At least for me it has had few bugs. others have had nothing but issues from the get-go.) The 3G internet speed is zippy (solid 1.4-1.6Mbps when in 3G coverage areas) and quite responsive, certainly enough for surfing the web and for use with my Exchange account for e-mail. The problem now is that I have had enough time away from my Treo 750 Windows Mobile device to start missing some of the common sense type features that for some reason the iPhone lacks even in its 2nd generation.
not to be annoying as I have seen many blogs rant about these issues already but I would like to share my issues with the readership so that they can avoid potentially game ending problems with the iPhone and purchase the device fully informed and ready to embrace the finger dance that is iPhone ownership.
The lack of tethering
The inability to schedule appointments FROM the device
Copy & Paste. (Come on Apple, seriously.)
No support for Video.
Bluetooth support for stereo headsets and syncing
Adobe Flash support for Safari.
No Tethering Tango
With all that 3G goodness how can I be expected to not occasionally tether my laptop to my iPhone for the benefit of using the iPhone as a modem. I have been doing this through Bluetooth and USB for years with smartphones (and even not so smart phones.) this feature that has been around for a decade is strangely absent from this state-of-the-art gadget.
Scheduling Conflicts
My issue with Scheduling is probably my biggest pet peeve of the new iPhone. I work at a company that utilizes a Microsoft Exchange Server this was what stopped me from purchasing the original iPhone (That and it's lack of 3G.) When I heard that Apple was adding support for exchange in the 3G device I was elated and promptly stood in line with the great and humble masses on release weekend to get one. The realization came on Monday of the following week that I could accept invitations to meeting but could not send one out. I wonder how Apple missed such an important feature. That is the equivalent to making a phone that can accept a call but cannot make them. "Boo Apple!"
Copy and Paste
Really? "Who would ever need that?" I heard something on Buzz Out Loud today driving to work about how Copy and Paste was on Apple's to-do list for the 3G but that it was not high enough to make it in the first release of the 3G. Here is hoping that it shows up in 2.1 of the firmware. I am so tired of typing things into the Google search bar that I had in my e-mail already.
Lights, Camera, Action!
Well, some how once again the iPhone is missing a feature that is standard on almost all high (and low) end phones. How can Apple leave video off of the iPhone? And include such a subpar camera. I read somewhere that they even used a chip in the iPhone 3G that supports up to a 5MP camera. So it is not a limitation of the chipset. Again a very sad wannabe fanboy must say "Boo Apple!"
Bluetooth 2.what does it matter?
With the iPhone being a high quality music and video player that includes Bluetooth surely it is the realization of a dream for people that want to finally "Cut the cord" completely and use wireless Bluetooth headsets. Right? Wrong. The new iPhone comes with Bluetooth 2.0 + EDR all that that means to you is that it will play nice with the majority of wireless headsets and probably your car if you have one of those "fancy built in Bluetooth car phone systems" (jaded). However that truly is it. there is no data, stereo audio, file sharing, photo sending or any other kind of data allowed or supported via Bluetooth on the iPhone. Why?
Apple and Adobe, when parents fight the kids lose…
I know Apple and Adobe don't always see eye to eye on many things but I really hope that they can get together on this one. Unfortunately we will never see an Opera browser for iPhone due to the limits of the SDK Apple released for the iPhone so it is truly on Apple to deliver the goods on support for Adobe Flash. I cannot conceive of why support has not made it to the top of the list for a product that was sold on the quality of its web experience.
Now I know that that seems like a huge list of reasons to NOT get the new iPhone 3G. And if any of those reasons are deal breakers for you then I wouldn't blame you for letting it ride for a few more generations. However, I decided to keep mine for 2 reasons
The interface is sweet. And when I say sweet I mean Game changingly sweet. This device is the beginning of the end for clumsy interface design. At the entry-level price of $199.00 the iPhone 3G feels like holding a Vertu in your hand for the cost of a pay-as-you-go trackfone. This device is extremely easy to use and with the safari web browser it offers the usability that I always wanted Windows Mobile's Pocket Internet Explorer browser to have.
The iPhone 3G has all of the hardware I could ever want in a phone. The Devices specs read like a wish list in a modern device (save the fact that it only has a 2MP camera.) The iPhone boasts a HSDPA chip capable of 7.2 Mbps downstream speed, 802.11B/G Wi-Fi, Bluetooth 2.0 and a 835 MHz processor. That being said I realize that none of these specs matter unless the software supports them. That also being said, as the hardware capabilities are there already software can be improved. So, Apple, please help make the decision to keep the iPhone a good one by fixing the issues that limit your wonderful piece of hardware.