Before you start reading this you may want to catch-up with:
Part 1 – Why Build a Maker Space
Part 2 – Walls Going Up
Part 3 – Framed!
Part 4 – Insulated!
Part 5 – Drywall
---
Finally something messy the whole family can enjoy together! Now that all the heavy gear is out-of-the-way and the room is cleaned out we can all go to town filling screw holes and mudding joints. I had lots of help for this, even my oldest daughter got in on the "fun" this time.
---
Tools for this part of the build:
Sheetrock mud, I bought the kind that comes pre-mixed in tubs.
Lots of various putty knives and taping knives
Drywall tape (Paper or mesh, your preference)
drywall sanding screens and pole sander heads
patience and time. This is gonna suck be difficult.
---
This part is where it all comes together. You can hide many mistakes and expose them by how good or bad you do with the mud, tape, and ultimately sanding. It is hot, nasty work and if you were going to budget to have one part of your build done by professionals this would be the one. All that being said, it was the one part of the project that brought my little girl, my pregnant wife, and my in-laws all together in the room at the same time to work on the project so what the heck!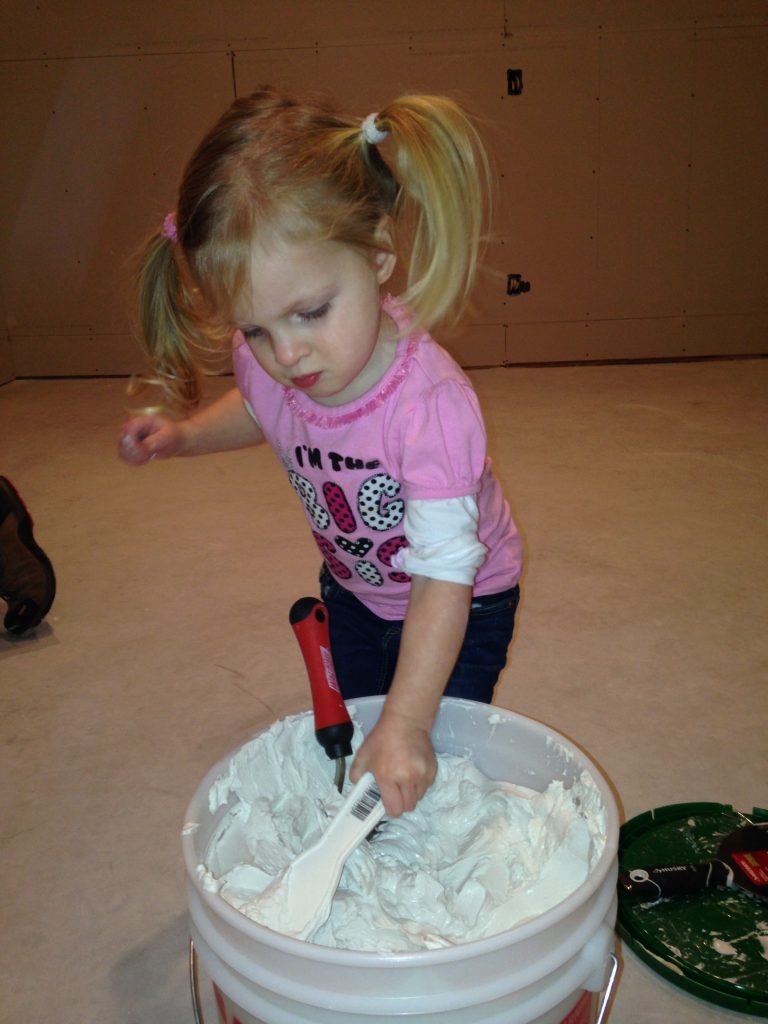 The most important thing to remember is that too much mud is bad. Also and equally important is that not enough mud is also bad.
Perfect mud is perfect.
You want the mud to be the consistency of about sour cream so add water until it is just right. This way it will flow into the cracks but also hang on the wall and not drip. It is also important to remember that this is a multi stage job and you will be mudding and sanding and then mudding and sanding again (And sometimes again!) So don't over do it with the first coat. The first coat is more about getting a base layer down and filling holes and cracks for the next coat(s).
Once you have taped and mudded the room, you will have to give it a day or so to fully dry before the dreaded sanding can begin. I would recommend you wear eye protection and a mask at the very least.
(I would also recommend that you do this while listening to a good podcast to keep your mind moving during this repetitive and miserable task, Stuff You Should Know (@SYSKPodcast) is a good choice regardless of which episode you pick!)
Start with a low grit sanding screen on a pole and work over the mudded areas until they are smooth. This is important as it is a chance to knock down any rough spots or torn paper from the drywall. There will be dust. LOADS of it.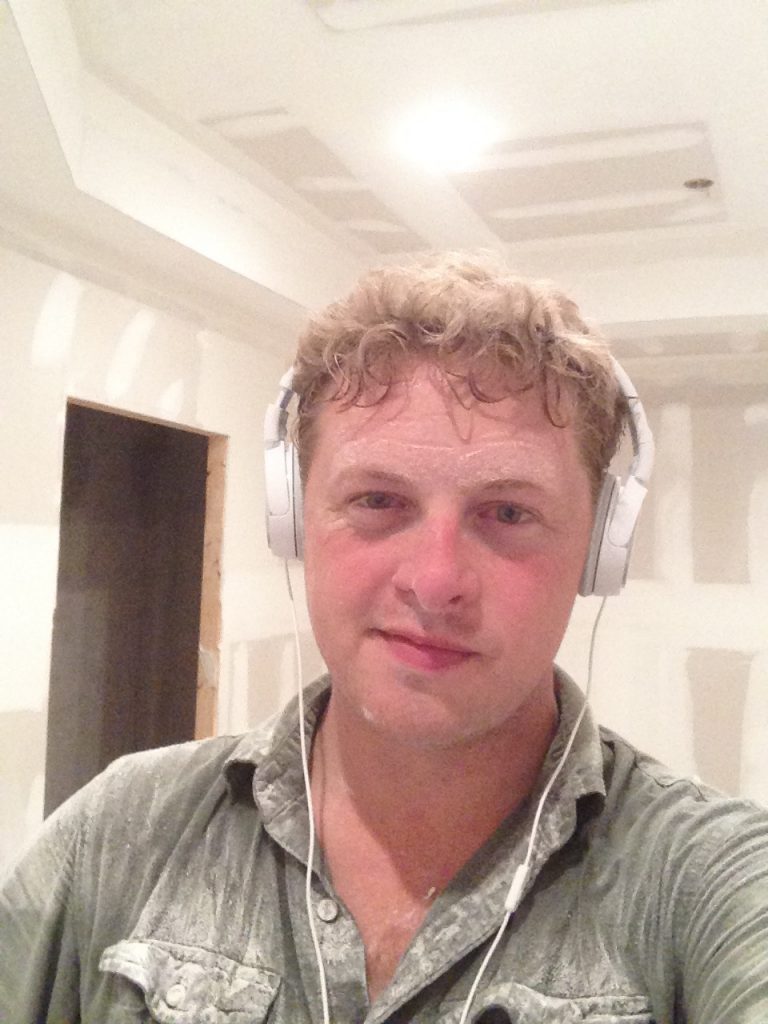 The important thing is to ensure you don't miss a spot while sanding so be sure to bring a bright light with you and shine it across the wall in a parallel fashion to see the imperfections. Once you have the first coat sanded, you guessed it! Get to mudding again! If you did a good job this is a 2 round process. If you are like me a 3rd round will be needed. Don't skimp here, this is the part that makes the finished room look awesome or pitiful. When you get to your final sanding do so with 120 grit sanding screens and be careful not to scar the wall by using too much pressure. Once the sanding is done, go over the walls with a damp towel to knock down the dust and reduce the build up that will get on your roller during the painting phase that will be coming soon! But first we must trim the room!
Check out Part 7: On to the trim!